Finishing what he started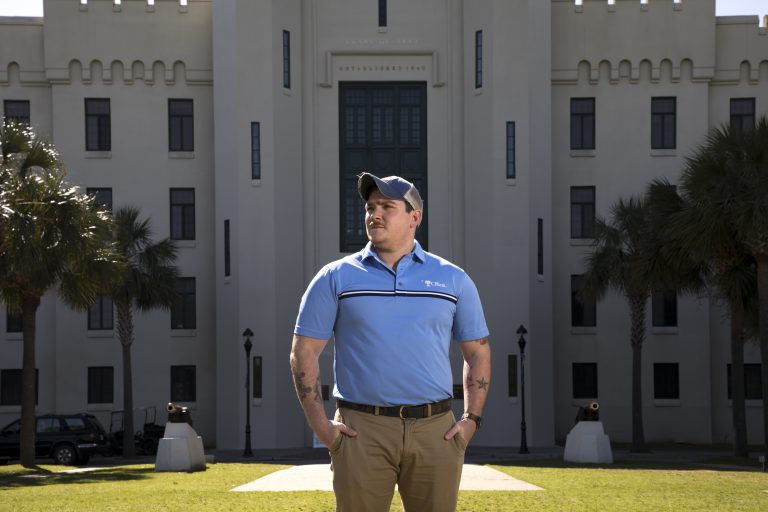 William Alexander Faulconer
Degree: Bachelor's in Business Administration
Graduation: May 2018
"Most infantrymen don't think their skills translate well into civilian jobs, but business is probably the best-suited venture for an infantryman, Alex says. "It relies on heavy management skills, and if you were an 11C like me, a lot of math!"
---
As seen in G.I. Jobs magazine
William Alexander Faulconer was inspired by the Sept. 11 terrorist attacks to serve his nation. He enrolled at Virginia Military Institute near his boyhood home, intending to commission as an officer. But a lot of his friends had already enlisted and Faulconer felt left behind. So he dropped out of school, joined the Army and served 10 years before returning to college to finish his degree.
We quizzed Faulconer about his circuitous journey to a bachelor's degree. His answers have been edited for brevity and clarity.
Why did you drop out of school?
Faulconer: A lot of my friends had already enlisted, I felt left behind and it was right before the surge. School was going well, but I didn't want to miss my opportunity to serve.
Did you deploy to Iraq or Afghanistan?
Faulconer: I deployed to Afghanistan twice. First with 5/2 Infantry at Fort Lewis from June 2009 until June 2010, and then when the brigade reflagged to 2/2 Infantry from April 2012 until January 2013.
Why did you decide to get out after 10 years?
Faulconer: I felt my duty was fulfilled, and I wanted to finish school.
What was your exit plan?
Faulconer: I was accepted to The Citadel, and my plan was to use my Post-9/11 GI Bill to fund school and supplement living expenses. I also enlisted in the South Carolina National Guard, which covered my medical expenses as well as working part time.
How did you prepare for your transition?
Faulconer: I got in contact with the Student Veteran Association at The Citadel. Being a military college with mostly cadets and a strong veteran student population, it made transition easy. Aside from the required transition briefs, I took a vested interest in contacting other veteran students at The Citadel, as well as researching veteran organizations that would welcome me into the community.
Why did you choose The Citadel?
Faulconer: As a military college, it was a perfect place to transition and get an education with a strong brand name behind it. As a veteran-student, I have the freedom of being a civilian in a military-type environment. It's fun to work alongside the cadets, and it presented a great opportunity to be a mentor to future officers. Also, it's a lot of fun watching the TAC (Training, Advising and Counseling) officers making the cadets do physical training while I just sip on a cup of coffee.
What was it like attending classes with younger civilians?
Faulconer: At first I felt like Billy Madison, but the cadets are eager to soak up knowledge from the experiences of the veteran students, and they are a lot more disciplined and mannered than your average 18- to 21-year-old, so it was a pleasant surprise.
What has been your biggest challenge so far in pursuing a post-military education?
Faulconer: I'd say the biggest challenge was just taking the first step. Making the active decision to put my education first again was not easy. I enjoyed the Army, was comfortable in my job, and leaving everything to be a student again was daunting. However, I'm so glad I did.
What has been the most rewarding aspect?
Faulconer: The fact that I'm going to finally finish my degree. I have no regrets about leaving college the first time and serving my country, but knowing that I'm going to earn the degree I originally set out for gives me a lot of pride.
Are there any blunders you would advise prospective student veterans to avoid?
Faulconer: I think the biggest blunder I've seen a lot of other vets make is preparation. It's so much harder on vets when they don't do their research. Don't be afraid to reach out to other vets in that community, ask what their experiences have been, and adjust accordingly.
What is your best advice for such transitioning service members?
Faulconer: Don't be afraid to do it. There are so many organizations and communities of veterans that make transitioning so much easier.